FROM BILL
Hi Folks:
We talked last month about March coming in and going out like a lion or a lamb, and I guess across the country it did a little of both. All I know is the month left a big ole footprint here in Whisperville.
First, as you've probably heard, we got stranded in Canada for an extra 24-hours following our short tour up there. Airplanes had mechanical issues, jetways froze, and temperatures reached 19-degrees below zero! I arrived home to find a giant oak tree uprooted in my yard and lying across what was left of my split-rail fence. I lost my hearing aids at a baseball game in Florida, put in a rush order for some new ones, only to have mine turn up two days later inside the Lost & Found department at Disney World. My name wasn't on them, but a worker there said his 84-year old grandmother lost some similar to mine, and he knew where to locate the serial number. He did, and the manufacturer traced them back to me. UPS delivered them the next day. Unbelievable!
All wasn't chaos, though, because before the month ended, I got to host a wonderful new set of Country's Family Reunion videos called "Kickin' Back," and was invited to appear in a music video with my buddies, Dailey & Vincent, the newest members of the Grand Ole Opry. We had fun acting silly with a song I co-wrote called "That Feel Good Music." It's in their upcoming album along with another song I helped write called, "Unsung Heroes." I hope you'll be listening out for them both.
A new recording artist named Tony Jackson has also put two of my co-written songs in his new, self-titled album. Tony is an amazing singer…if you don't believe me, check out his video on "The Grand Tour." He pumped a lot of new life into old the George Jones classic and has received over 10-million views. He cut "I Didn't Wake Up This Morning," which some of you might recall hearing Mo Pitney sing, and a new song called "They Lived It Up (Then Wrote It Down)," a tribute to some of the legends of country music. Tony Jackson is PURE country and I predict big things for him in his career.
Brad Paisley's recording of our new song, "Dying To See Her Again," will be released April 21st as part of his new CD called "Love And War." I do a little bit of whispering way off in the background, and I sure hope you'll like it. We're hoping to perform it on the Opry one night soon.
I know lots of you start planning your summer vacations this time of year, and if Branson is on your travel list, I hope you'll remember that Moe Bandy and I will be at the Welk Theater there on Friday June 23rd for one show only. You can get ticket information at www.upcloseconcerts.com or by phoning 417-337-7469. Gene Watson and I will be teaming up July 14th in Montgomery, Alabama. Moe and Gene are two of my favorite people, and both those dates should be a lot of fun.
I know lots of you are heading for the Opry this Spring, and we look forward to welcoming you to Music City. We're scheduled to perform there April 8th, 14th, 18th, 22nd, 25th, 28th, and 29th.
If you haven't checked out my latest Bill's Journal, I hope you'll do so. It's an update on my grandson, Gabe, and his battle with cancer. My family could sure use your positive thoughts and prayers right now.
Thanks, and we'll see you back here next month.

Ask Bill
1) Is there a book available to us that gives birth and death dates of the country music stars? There are some of my favorites that are no longer with us but weren't "newsworthy" enough to make national news.
Renee, the waitress on Larry's Country Diner, published a very nice and informative book called Precious Memories Memorial back in March of 2016. There are over 80 artists included, with the last one being Joey Feek. This book can be ordered through Amazon.com. Renee also tells me there will be an updated version available before Christmas of this year.
2) I hope this isn't too personal, but what are your religious views? Do you believe in Jesus?
I certainly do. I was raised in the Methodist church, my grandfather being a Methodist minister. I don't preach to people or wear my religion on my sleeve, but I have a deep and abiding faith that has gotten me through a lot of bumps in life's road.
3)  I don't know if you know about "Alexa" or not. It's the voice that powers the internet based Echo Generations device. I received one for Christmas, and asked her to play your music which she did. Do you get paid when she plays your songs? 
I'm very familiar with Alexa as my grandson, Gabe, also got one for Christmas. I asked my publisher if we get paid when she plays our songs and he replied, "All legitimate streamers pay a small royalty…but it's very small." So I appreciate your asking her to play my music, but I'm not getting rich off of it!
I always appreciate your questions and hope you'll keep them coming. Write me at askbill@billanderson.com or at P.O. Box 888, Hermitage, TN. 37076. We'll have more next time. Stay curious.
Latest Photos
Scenes from Spring Training: I got to visit with my longtime friend and Atlanta Braves manager, Brian Snitker, and was then surprised by fans asking me to autograph their baseballs. I used to dream of signing baseballs when I was a kid, but to be honest, they are extremely difficult to write on. After returning home, Jamie Dailey and Darren Vincent invited me to be part of their new video of our song, "That Feel Good Music." I had a lot of fun cutting up with the guys…then found myself on the receiving end of their foolishness a few days later. Dailey & Vincent are the newest members of the Grand Ole Opry, and our cast is richer because they are now a part of it.
LATEST JOURNAL
Hi Gang:
For the past several years, many of you have been following my grandson, Gabe, and his battle with a very rare type of cancer. Gabe is now twelve years old, and a straight-A student in middle school, in spite of the fact he misses at least one week every month as he deals with his chemo treatments. His mom, Beth, sent out an update on his condition last week, and I wanted to share it with you:
From Beth: Gabe has been having really bad headaches for the past several weeks and he just has not been well.  On Monday, his blood pressure was very high also.  When Gabe started this chemo, 18 treatments was the most anyone had been on this chemo.  Gabe has had 29.  We knew that we were living on borrowed time with this.  The biggest side effect that they look for with this particular drug is peripheral neuropathy.  The doctor said that his headaches and blood pressure are indicators that it is setting in and it is time to stop.  She said if we continued to give this chemo, it would probably be just a couple weeks before he would not be able to walk.  Of course we don't want that!! So, needless to say, he did not get chemo this week. We would have to wait at least six months before he would be eligible for this particular chemo again.
Gabe is very stressed and has a lot of worry over this, but he has continued to have a really good attitude about it.  After the doctor had explained all of this to us on Monday, Gabe was very quiet.  She asked him if he was ok and his response was "So you are telling me that I broke a world record with the most treatments of this medicine!" We all got a kick out of that!!
We now have a lot to think and pray about.  He is still on his weekly chemo pills and will continue to take those.  We are starting light therapy again 2-3 times a week, but worried that it won't be enough.  Jamey and I would really appreciate your prayers as we seek to find the best option going forward.  We are looking into a lot of different options, including possibly taking him to an oncologist that specializes in this at Stanford University in California.  Please also be in prayer for Gabe.  While it is great that he is able to stay in school right now, the prospect of new treatments and doctors, and the unknowns ahead are very scary for all of us.
Thank you for the continued love and support you have all shown to us.  We are very grateful.
May I simply add, "Amen."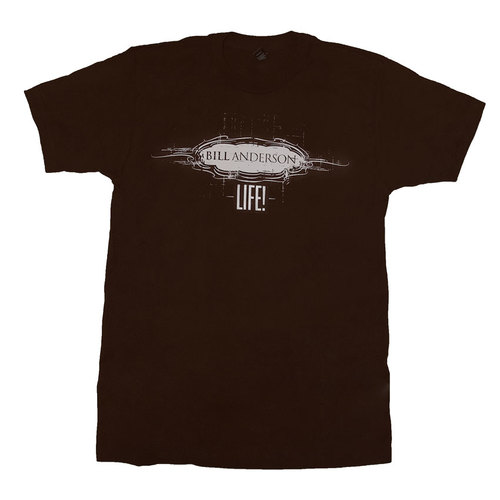 LIFE! Tee
Brown LIFE Bill Anderson tee
$10.00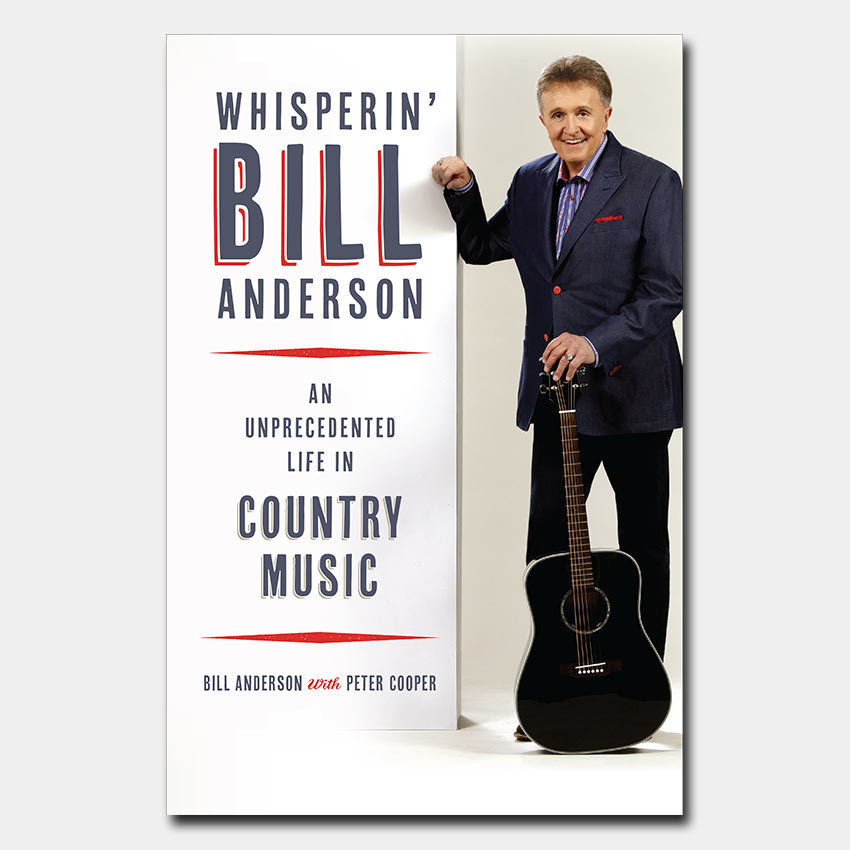 NEW BOOK OUT NOW!
Shipping NOW! Available everywhere! Order from here to get a Signed Copy!
$29.95
Bill Anderson Guitar Pic 5 Pack
This new item is the Pic of the Month! 5 different Bill Anderson Guitar pics for $5.00!!