FROM BILL
Hi Gang:
Has it been as hot where you are as it has been in Whisperville? I know…it's summertime and it's supposed to be hot, but I'm ready for my favorite season of the year to hurry up and get here and cool things off!
I did get a taste of cooler weather when I flew out to San Diego for some business meetings the last weekend in July. The highs were in the 70's and the lows in the 60's. It was nice. On the way back to Nashville, I crossed paths with my pilot/son, Jamey, at the airport in Atlanta. I've attached a picture I thought you might like.
We had some good times on the road back in July, starting with a great trip to Montgomery and a fun show with our friend, Gene Watson. Then we worked our first county fair  of the season in Batesville, Arkansas a week later. Thanks to all of you who came out to see us.This month we're heading north, and looking forward to seeing lots of you in Indiana, Illinois, South Dakota, and Minnesota.
I've been in the studio recently recording some new music, including a duet with David Frizzell for a new tribute project to David's brother, Lefty. Naturally, we teamed up on "Saginaw, Michigan," which was Lefty's last #1 record and a song I co-wrote with Don Wayne.
The great Freddie "Easy Lovin" Hart came in from California and was at the studio the same day as I, and he cut a marvelous new song he wrote about Lefty, his longtime friend. It's hard to look at Freddie and believe he's 90-years old now. He hasn't changed a bit, and he's still in great shape. For those who might not know, Freddie has a black belt in karate, and he still looks like he could take out a whole country band by himself!
I received some sad news while I was on the west coast. Steve Chapman, who played guitar in my Po' Boys band back in the early 70's, passed away. Ironically, someone sent me a picture of us on stage just a few days before I heard of Steve's passing, and I've included it here.
So what's coming up this month? Well, how about six performances at the Grand Ole Opry (August 1st, 5th, 9th,11th, 15th and 29th) and those four concerts on the road (Aug 18th, 19th, 26th, and 27th)? Check the Tour page at www.billanderson.com for the details. We'll also be taping a second Wednesday Night Prayer Meeting series for Country's Family Reunion on the 23rd. This is totally by popular demand. The original series was one of the most well-received of any we've ever done. We're all looking forward to doing it again.
On the personal side, my grandson, Gabe, continues to need your prayers as some of the newer cancer treatments don't seem to be working as well as we had hoped. Also, my friend, Vickie Salas, whom many of you have met over the past ten years, is also undergoing cancer treatments and could use a prayer or two herself. I think I'll have some t-shirts made saying, "I HATE CANCER"!
Thanks for everything and my best to all. See you back here next month.

Ask Bill
We've got several questions about other artists this month. I'll group them together and try to satisfy your curiosity.
1) Do you guys ever hear from Tom T. Hall? I believe he lives down in Florida now.
No, T. still lives in Tennessee at his Fox Hollow ranch. He has recently written a book of poems, and his memoir, "The Storyteller's Nashville," has been revised. Both books should be available through Amazon.com.
2) What has happened to Jan Howard? I have not seen her on the latest Country's Family Reunion Shows.
Jan has been recovering from a fall she suffered quite some time ago, and has been forced to curtail her performing. She visited the Opry recently, though, and seemed spry as ever. It was great to see her smiling and greeting old friends.
3) Do you have an update on Mel Tillis' condition? I heard he was ill, but haven't heard much news about him since.
Mel is continuing to recuperate from several health-related issues at his home near Ocala, Florida.
4) Has Faron Young ever been put in the Country Music Hall of Fame?
Yes he has, and deservedly so. He was inducted in 2000.
5) I often hear country singers mention they had a #1 record on a particular song. I assume they mean a #1 single? When I hear singers mention a #1 I think of LP records. What is the modern terminology of a #1 song?
Good question. You assume correctly when you say they must mean a #1 single. There are both singles and album charts, but when someone refers to a #1 record they are most likely speaking of a single that was a hit on the radio, in the record stores, and via online purchases. A top-selling LP or CD would more than likely be referred to as a #1 album.
Thanks for continuing to send us your questions. You can e-mail them to me at askbill@billanderson.com or send them via snail mail to P.O. Box 888, Hermitage, TN. 37076. I'll try to answer as best as I can. Stay curious.

Latest Photos
Steve Chapman, left, my guitar player in the early 70's, passed away in late July. This picture was taken in Ft. Worth, Texas, at the infamous Panther Hall. That's the late Snuffy Miller playing the drums. I was passing through the Atlanta airport at the same time as my pilot/son, Jamey, the other day, and we met up for a brief visit. I was headed to Nashville, and he was flying passengers to Tampa. My granddaughter, Sophie, helped me film a promotional announcement on stage at the Opry recently. She was all smiles when it was over.
LATEST JOURNAL
Hi Gang:
So many of you continue to ask about my grandson, Gabe, and how things are progressing in his battle with cancer. I received this letter from his mom, Beth, while I was on vacation, and I want to share it with you.
Thank you SO much for your continued prayers and concerns. Please don't stop now!
Our trip to Stanford went extremely well. Jamey and I were impressed with all of the doctors and how kind and loving they were toward Gabe. Our doctor at Vanderbilt and Stanford have come up with a treatment for Gabe that they feel good about.
He will start this new treatment this Friday. Please pray that the side effects will be minimal and that he will respond well to it.
Thanks so much,
Beth
I can only add a heartfelt "Amen!"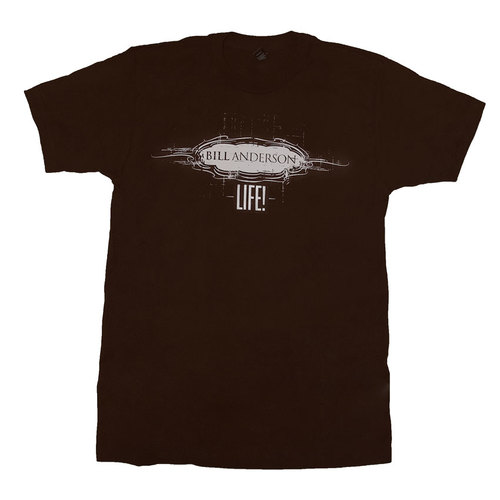 LIFE! Tee
Brown LIFE Bill Anderson tee
$10.00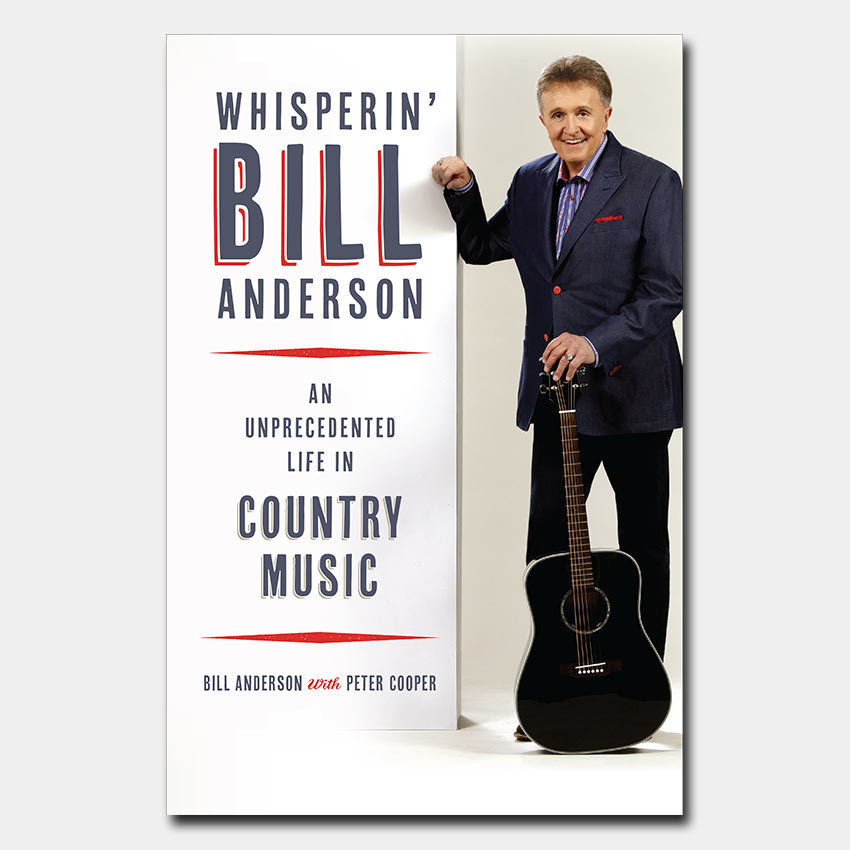 NEW BOOK OUT NOW!
Shipping NOW! Available everywhere! Order from here to get a Signed Copy!
$29.95
Bill Anderson Guitar Pic 5 Pack
This new item is the Pic of the Month! 5 different Bill Anderson Guitar pics for $5.00!!