FROM BILL
Hi Folks:
Well, did March come in like a lion or like a lamb in your neck of the woods? Legend has it that it will go out opposite of the way it came in, but I don't know. We had tornado warnings here this morning, the groundhog saw his shadow this year, the temperature in Nashville hit 80-degrees in February, and I've been confused ever since!
I told you last month that a new song Brad Paisley and I wrote and recorded together would be coming out March 3rd, but, to quote another song of mine, "the truth is I lied." Brad told me yesterday the release date for his new album has been moved back to April 21st, so I guess we'll have to wait a little longer to see whether or not you like what we've done. I sure hope you will.
There's a chance the two of us might perform the song on the Opry between now and then, though, and if that comes about, I promise you'll be the first to know.
March looks to be an interesting month for me. On the 10th and 11th we'll be out in Alberta and Saskatchewan, Canada, two places where winter has been known to come early, stay late, and hold a grudge. Hopefully we won't get snowed in, though, because the next weekend I'm planning a trip to Florida to take in a little spring training baseball. The co-author of my book, Peter Cooper, is going with me and he's like a kid in a candy store. It will be his first spring training trip and I've assured him there's nothing like it. Of course, as always, I'll be rooting for the Braves. (He will, too, although he may not know it yet!)
As soon as we come home with our gorgeous suntans, we'll head back indoors to record another in our series of Country's Family Reunion TV shows. This series promises to be one of our "funnest," with each regular member of our cast bringing an artist to the show who has never appeared with us before. That should make for some great fun, laughter, and music.
Many of our longtime fans will remember Mike "Chickenhawk" Toppins who was the steel guitar and banjo player in my Po' Folks Band for several years. Unfortunately, Chicken had to have the lower part of his right leg amputated a few weeks ago to help prevent the spread of diabetes. If you'd like to drop him a note to let him know you're thinking about him, his address is 4chicken1@gmail.com. He not only was a part of our band, but he produced several of my recordings as well.
And I don't think I've told you that we've added a full-time sound engineer to our traveling circus. John Nicholson, with whom we've all worked many times at his Hilltop Recording Studio, is mixing our sound now and doing a great job. Reach out and welcome him to the family the next time you're at one of our concerts.
Sorry I had to miss the Opry last night, but I managed to catch a little 24-hour stomach bug. I'm fine now, and our other Opry dates this month are March 3rd, 4th, 24th, 25th, 28th, 31st, and April 1st. If all goes as planned, I'll be hosting the Ernest Tubb Midnight Jamboree April 8th.
Keep your eye on our Tour page and come see us if and when you can. Meantime, thanks for continuing to be the world's best fans and friends. See you back here next month.
Ask Bill
1) Do you ever write songs that you prefer to keep to yourself because they are too personal to share with other people?
Not very many, but a couple do come to mind. When my first child was born, I wrote a song for her that nobody outside our family has ever heard. And recently, when a special person in my life was diagnosed with cancer, I wrote a song that I hoped might encourage her. It did, and I've thought about maybe recording it someday in hopes of encouraging others. Stay tuned.
2) At one of the very first country radio conventions in Nashville I met you at the airport, and you said you owned several radio stations. Are you still involved in ownership?
No I'm not. The two happiest days of my life were the day I bought my first station and the day I sold it.
3) Which season of the year do you enjoy the most?
The fall. I love the first bite of cool air after a long, hot summer…and I love it when the end of baseball season collides with the beginning of football. Bring it on!
4) I'm combining two questions here: Have you ever considered coming to Alaska for a performance? Have you ever performed in the state of Nebraska?
I have performed in every state except Hawaii. I've never performed for the general public in Alaska, but I did some shows at Elmendorf Air Force Base back in the seventies and on an Alaskan cruise a couple of years ago. I've performed many times in Nebraska, and always enjoyed it there. The same goes for Ohio, Michigan, Pennsylvania, and other states you have asked about recently. I still love performing, and I'll come back to your area as soon as I'm invited!
Thanks for your questions. Send yours to askbill@billanderson.com and stay curious.
Latest Photos
Randy Travis and his wife, Mary, recently stopped by the Opry before returning home to Texas, and I had the honor of introducing them to a standing ovation onstage. Mary says she reads our newsletters every month, and I appreciate that. At the recent Legends Lunch, T. Graham Brown tried to hog his way into a picture with me, Mark Wills, and Tim Rushlow. Look close and you can see the Bellamy Brothers and others in the background. And when Jerry Dowling learned I was going to spring training later this month, he couldn't resist drawing another of his great cartoons in my honor. Remember his terrific book of country caricatures is available at fstopjd@fuse.net.

LATEST JOURNAL
Hi Gang: 
I had the sweetest telephone conversation over the weekend.
My daughter-in-law, Beth, has been telling me that my 8-year old granddaughter, Hallie, really wants to go to the Opry with me one night….just the two of us. So last night we decided that a Friday night would be best because Hallie doesn't have to get up early on Saturdays like she does on Sundays for church. I sent Beth my Friday night schedule for the next two months and told her to pick the date that worked best for her.
She chose April 28th, and we both put it on our calendar.
Well, my phone rang shortly after we confirmed everything and it said "Beth Cell" on my screen. I answered thinking I'd be talking to Beth.
"PawPaw," this little voice said, "this is Hallie. I am so excited about going to the Opry with you on April 28th."
I smiled and told her I was looking forward to it, too, and assured her that the day would be here before we know it. Then I asked her, "Would you like to go early that night and go out for dinner before the show?"
She replied in her soft, childish voice, "Yes, please." And I thought I was going to melt on the floor.
"Do you know who is going to be performing that night?" she asked, and I explained that it was a bit early to know that, but that I'd keep her informed. I asked, "Is there somebody in particular that you'd like to see?"
"Yes, sir," she said, "Dolly Parton. She's my favorite."
I replied that I didn't know if Dolly would be there or not, but that lots of good ones would be. Then she really got me. "Do you know who my next favorite is?" she asked. I was fully expecting to hear Miranda Lambert or one of the young, current stars. "Who?" I inquired.
"Loretta Lynn," she answered. And again I nearly went through the floor. I told her that Loretta has been coming to the Opry a bit more often lately, and maybe if we were lucky she'd be there. That seemed to make her happy.
How cool is it that an 8-year old wants to go to the Grand Ole Opry with her PawPaw, go out to eat together, then hopefully get to see Dolly Parton and Loretta Lynn live onstage? 
Somebody is raising that kid right!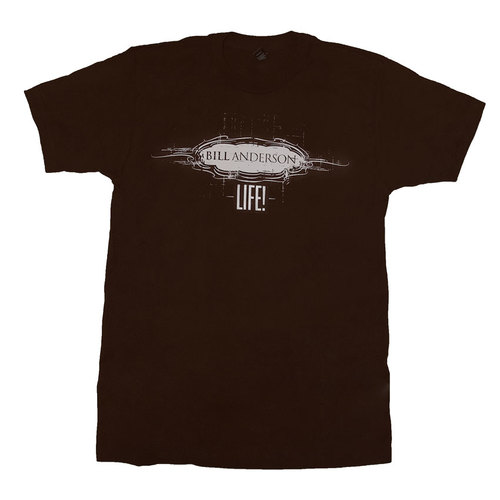 LIFE! Tee
Brown LIFE Bill Anderson tee
$10.00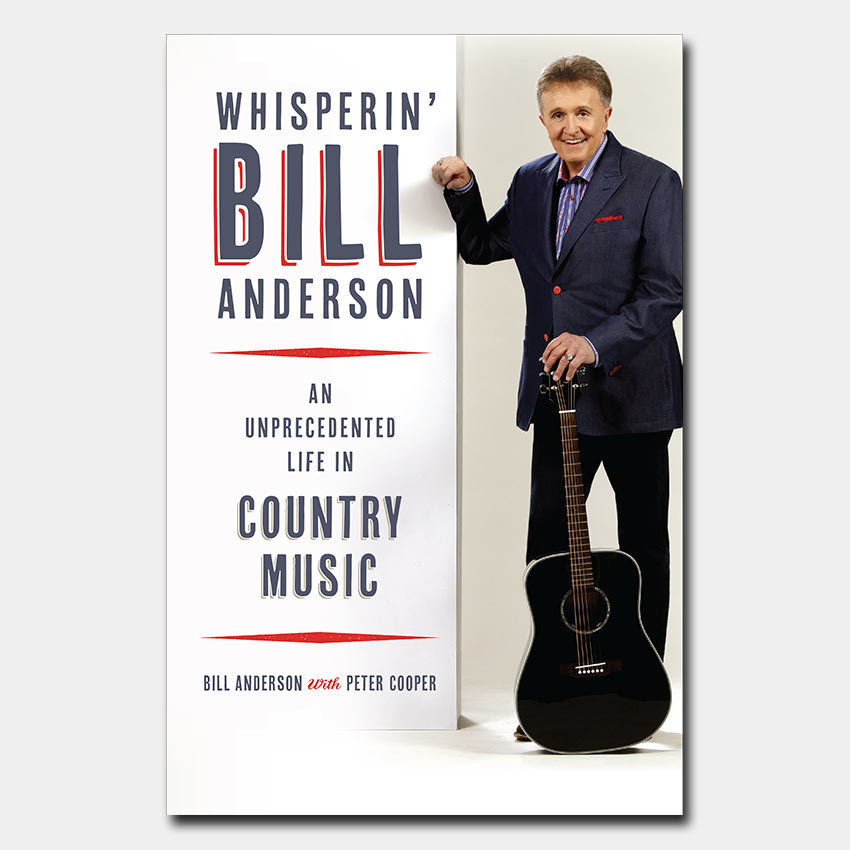 NEW BOOK OUT NOW!
Shipping NOW! Available everywhere! Order from here to get a Signed Copy!
$29.95
Bill Anderson Guitar Pic 5 Pack
This new item is the Pic of the Month! 5 different Bill Anderson Guitar pics for $5.00!!