FROM BILL
June 1, 2017
Hi Gang:
And greetings from Music City…or is it Hockey Town?…U.S.A.
All I know is with the annual CMA Music Fest right around the corner and our Nashville Predators hockey team playing in the Stanley Cup finals, I'd hate to be trying to book a hotel room in town right about now. This place is crazy!
Here in suburban Whisperville, though, things aren't quite so hectic. We had a great trip to Texas in late May, and I want to thank all you folks who came out to see our shows down there. The fans in Texas are great…not to mention the chicken fried steak and the Mexican food! I love traveling to the Lone Star state.
Before we left on our trip, however, we were hit with the news that the 45-year old son of my assistant, Judy Price, had been severely injured in an automobile accident in eastern Kentucky where he lives. He had to be life-flighted to a nearby hospital where he remained in a coma for several days. His 16-year old daughter, who was traveling with him, had to have her spleen removed and surgery to repair a shattered ankle. Both are recovering well, but Judy and her family would appreciate your prayers. She has had to be out of the office quite a bit since the accident. If we've fallen behind on anything…like shipping a merchandise order to you…please be patient and understand that we'll get to it as soon as we can.
I spent an interesting day with my manager, Lee Willard, and his camera last week, photographing all my old rhinestone stage costumes that have survived the miles and the years. I still have all or part of 39 outfits, most of them made by the legendary tailor, Nudie Cohen, back in the sixties. I have loaned suits to various museums and exhibits over the years, some have mysteriously disappeared, and a few of the old band outfits have been sold to other musicians or collectors. I'm not sure just what I'll do with the ones that are left (I won't be wearing them unless I lose a whole bunch of weight!), but now at least we have a photographic inventory of what we have on hand. It was a fun day remembering the places and times associated with each costume.
Thanks for all your nice comments about the song, "Dying To See Her," which I co-wrote and recorded with Brad Paisley. Many of you have said you can relate to the song through various friends and family members. I got a letter last week telling me it was played at a loved one's funeral. It's a sad song in a way but one with a hopeful message. I'm glad to know that you like it. Charley Pride has a new album coming out July 7th with an old song of mine called "You Lied To Me" included. The video I filmed with Dailey & Vincent, "That Feel Good Music," continues to make the rounds (somebody called us the modern-day Three Stooges the other day!), and I'm working on recording some new Bill Anderson music as well. Stay tuned.
We'll be traveling out to Branson this month for an appearance on the 23rd with our buddy, Moe Bandy, at the Welk Theater. On the way home, we'll stop by Oakland City, Indiana, for a show June 24th, and I'll be joining Bobby Bare, Buddy Cannon, and Bobby Tomberlln for a songwriters' round at the famed Bluebird Cafe on June 29th. Our Opry dates for June include June 3rd, 4th, 6th, 20th, 27th, and 30th.
I won't be taking part in the CMA Music Fest this year to the extent that I have in the past. I have been to every such gathering since its inception in 1972, other than 1985 when I was in the hospital. This year I had to reschedule a vacation that was originally set for October of last year. Two absences in 45-years isn't too bad, is it? Thanks for understanding.
As you are reading this, my grandson, Gabe, should be returning from the Stanford University Medical Center in California, where we're hoping the doctors were able to come up with some new ideas as to how to treat his cancer. Thanks so much for your thoughts and prayers, and as soon as we know anything, I'll pass it along.
Have a great month, and I'll look forward to visiting with you here again in July. Thanks for everything you continue to do for me, my music, and my career. You are THE best!

Ask Bill
1) I live just outside Milwaukee, and we have a station that claims it plays country, but they never play you or some of the older singers. I really enjoy the OLD country music, but the only way to get it is to pay for Sirius, and I don't spend enough time in my car for that.
You'd be surprised at how many letters I receive that say basically the same thing as yours. Many stations who claim to play "Classic Country" or "The Legends of Country" don't go back in their vaults past about 1980, and the "legends" are singers from the 80's and 90's. It's true that Willie's Roadhouse on Sirius/XM does play the older music, some from as far back as the 40's and 50's, and you don't just have to listen in your car. I have a satellite receiver in my car and in my house. They even make portable models that you can move from one place to another. Maybe that's your answer. Thanks for writing.
2) Greetings from downunder in the state of New South Wales, Australia, where I'm listening to WSM650 as I work away in my office. Tell me, Bill, with your infinite knowledge of country music, do you think there will come a day when fiddles and steel guitars return to the instrumental accompaniment, and lyrics tell the story of life's journey with all its good and bad times?
It's impossible to say today what might or might not be happening in music years from now, but from this vantage point it doesn't look promising at the moment. The main problem as I see it is that the young singers and songwriters are growing up today influenced much more by rock and pop and even hip-hop music than they are by traditional country music. Even those who call themselves "country" define the genre by acts like Little Big Town, Florida Georgia Line, and Carrie Underwood…not by Buck Owens, Merle Haggard, and George Jones like the generation before. When Elvis and his contemporaries came along in the fifties, the stylings of singers like Frank Sinatra and Perry Como never rose back to the top of the charts that they had dominated only a few years before. I hate to say it, but I'm afraid the same is happening with the music that you and I grew up on. Thanks for listening "way down there!" Wish I had better news.
3) I love your newsletters. Would you remind this old lady how you became "Whisperin' Bill?" Someone asked me and I could not remember.
Thank you. A funny little songwriter/comedian named Don Bowman gave me that nickname when he used to appear regularly on my syndicated television show back in the late sixties. I was a bit sensitive to the name at first because I thought people were making fun of me. It's turned out to be one of the best things that ever happened to me though. There are Bill Anderson's or William Anderson's in nearly every phone book in the United States, but there's only one they call Whisperin' Bill. I'll be forever grateful to Don. May he rest in peace.
Thanks for all your questions, and feel free to send me any others you might have. E-mail them to askbill@billanderson.com or send them to me at P.O. Box 888, Hermitage, TN. 37076. Until next time, stay curious.
Latest Photos
I'm always saying that I have the best and most loyal fans and friends in the world. These pictures are proof. In the first one, a fan is relaxing atop my plaque inside Walk Of Fame park in downtown Nashville. In the second, a Texas fan decorated his guitar in Bill Anderson fashion, and in the third my buddy, Brad Paisley, is seen finally coming around to my way of thinking. He's always teasing me about writing songs with a pencil instead of on a computer. This picture is proof that he's decided my way is best. As I've told him many times, a pencil never crashes!
LATEST JOURNAL
Hi Gang:
So many of you continue to ask about my grandson, Gabe, and how things are progressing in his battle with cancer. I received this letter from his mom, Beth, while I was on vacation, and I want to share it with you.
Thank you SO much for your continued prayers and concerns. Please don't stop now!
Our trip to Stanford went extremely well. Jamey and I were impressed with all of the doctors and how kind and loving they were toward Gabe. Our doctor at Vanderbilt and Stanford have come up with a treatment for Gabe that they feel good about.
He will start this new treatment this Friday. Please pray that the side effects will be minimal and that he will respond well to it.
Thanks so much,
Beth
I can only add a heartfelt "Amen!"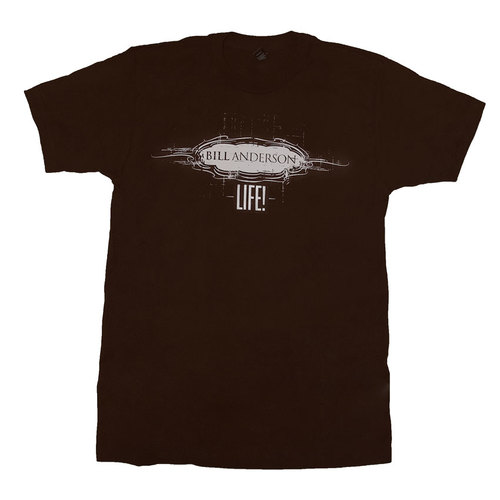 LIFE! Tee
Brown LIFE Bill Anderson tee
$10.00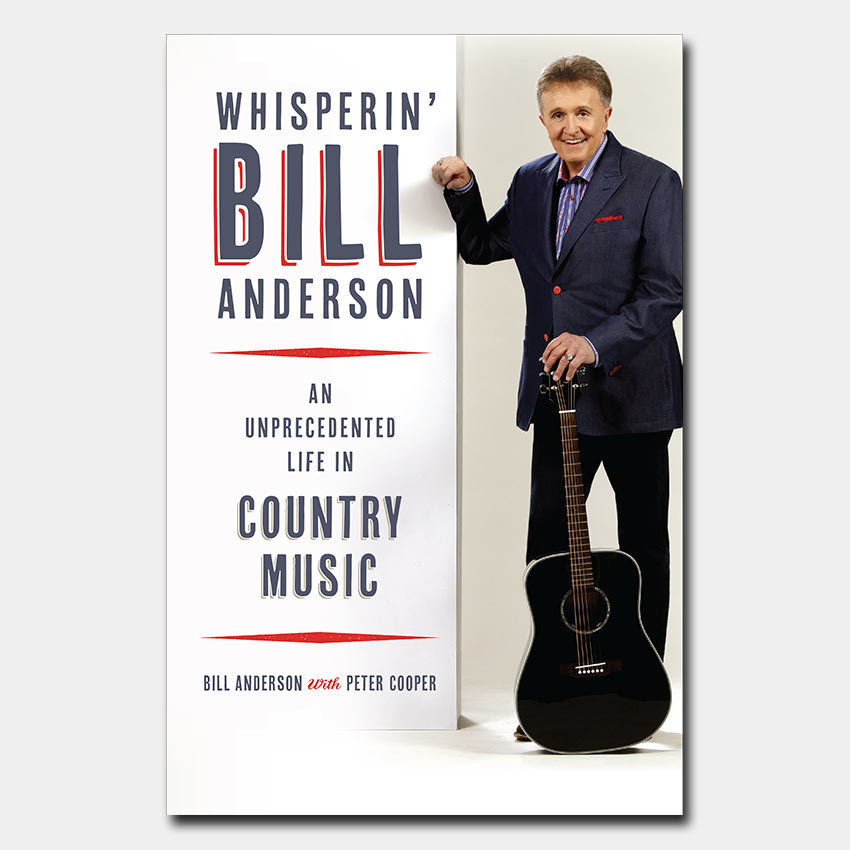 NEW BOOK OUT NOW!
Shipping NOW! Available everywhere! Order from here to get a Signed Copy!
$29.95
Bill Anderson Guitar Pic 5 Pack
This new item is the Pic of the Month! 5 different Bill Anderson Guitar pics for $5.00!!